Focusing on paying off our debt makes money tight. I had created a stock pile using coupons about 5 plus years ago and that stock pile held us for a long time, mind you not the full five years just a long time. Some how I had forgotten about doing it and spent a long time paying full price. I returned home from my dads funeral, down, beat, hurt physically and mentally.
My friend in her excitement of her recent discovery of coupons shares with me what she has found. I jump right in I know exactly what she's talking about and she looks at me with that look and yes now we are both krazy over our coupon savings. I've been kinda worried about myself, I want to create, I want to garden, I want to dress cute, I want myself back I'm missing that person. But just today I realized I'm worrying about nothing I just found something new to fill my time with. COUPONS!!!!! I get to shop and save money all while staying on track and getting out of debt. It's fun it's addicting and right now I'm a krazy coupon lady!!
This is my krazy coupon facts for august!
So if your interested in keeping some of your hard earned cash for yourself then grab yourself a few Sunday papers, check out
The krazy coupon lady!!!
Here's a few thing I bought in August!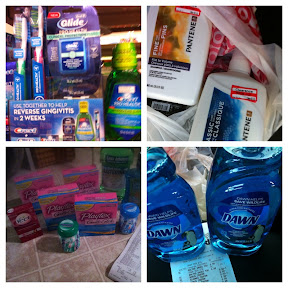 Go get yourself some retail therapy and save some cash too!
Crystle
~Have a fantastic day!!!