I had so much fun shopping and decorating for Easter. I started at my favorite thrift store, from there I hit the .99 cents store, but before I got there I went to another thrift store, that's always closed and I've never been to before (insert happy smile here). So after a trip to Michael's and Lowe's it was time to create.
Oh I don't even know what to show you first.......
Ok the wreath for my front door, made from a piece of wood, moss, ribbon and a sprig of flowers. I hope to share the steps on how to make this soon.
Another small frame I am working on!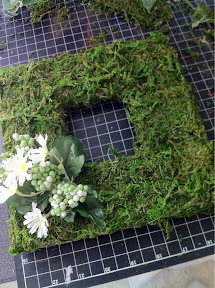 This awesome chicken wire basket from Sherill's house is given new life with ivy and flowers and some cute Easter grass. Added a little moss to a bowl and added malted milk eggs oh and I cant forget.........My $1.00 find the cute milk container
Ok so I found these lovelies on my thrift adventures and the .99 cents store. Here's the before...
Oh and cost for all the glass $11.00!!!!!
I am so excited about how these came out. E6000 and thrifted glass.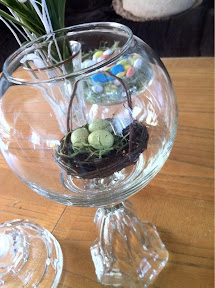 So awesome.....it all came together just how I imagined it.
I have a few more things in the works I'll share them soon.
Crystle
~Have a fantastic day!!!